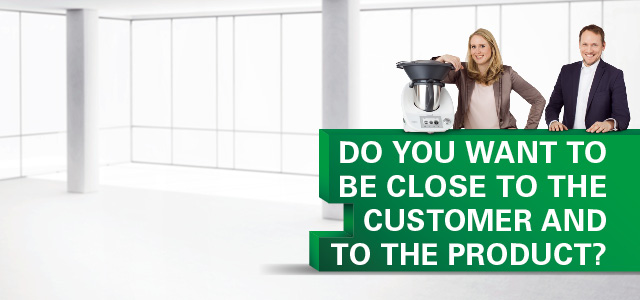 At Vorwerk, you can.
Welcome to Vorwerk – as a Business Project Manager
Life is full of contradictions. We prove that these can be perfectly united, not only with our innovative products, but also with exciting opportunities in marketing and sales. We give our employees the freedom for dynamic development while also placing value on their work-life balance.
---
We are an international, family-owned company offering to our employees and sales advisors a wide variety of prospects. The successful direct sales concept, fascinating well-known brands as well as long-term perspectives form perfect conditions for dedicated people to take the opportunity to actively shape their future with us.
Vorwerk International & Co.KmG belongs to the German family-owned company Vorwerk that has been operating in Wuppertal, Germany for more than 130 years. From the strategic head offices in Wollerau, the Kobold and Thermomix divisions are managed.
More @
vorwerk.com
In this newly created position you will be a member of the Demand Program Management team within the Sales Systems, Digital & Omnichannel division.
responsibilities
You will be responsible to ensure the delivery of software changes for Vorwerk's digital customer solutions with overall budget and schedule accountability

Given the technical complexity of the Digital Ecosystem one of your key tasks will be to maintain and drive an overall picture with focus on the most urgent and substantial risks without getting lost in the volume of topics

Furthermore, this role will require a tight collaboration & alignment with a variety of different stakeholders and hierarchical levels such as software development, marketing, customer care, legal, recipe business, product owners, technical project managers, architects, UI, IT service management, program & project managers at Digital R&D, and the markets
requirements
At least 5+ years Project management experience specifically for software implementation, ideally for apps

Several years of experience in working in an international matrix organsiation

Agile skills, i.e. Scrum Master / Product Owner certification and having worked in agile context in various roles

Effective communication skills and the ability

to create meaningful relationships with co-workers

Good negotiator with the ability to keep involved parties content and working toward a unified goal at all times

Fluent in English is a must, any other language e.g. German is of great advantage
Contact:
Vorwerk International & Co. KmG
Melissa Bikmaz
0041 44 786 01 90
www.vorwerk.com