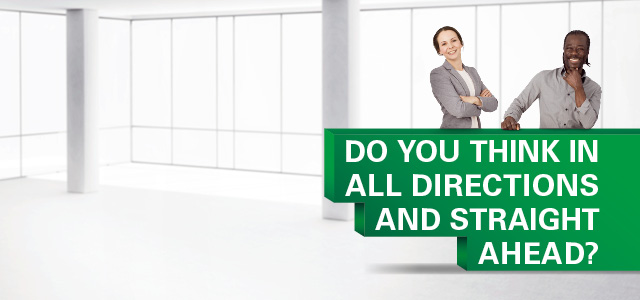 At Vorwerk, you can.
Welcome to Vorwerk – as a Digital Service Manager (M/F/D)
In daily life, we are facing challenges every day. How to master them, we show with our innovative and high-quality household appliances. Corresponding to that the Vorwerk team offers you a high potential. Are you looking for a multi-faced job in which you can develop? Do you think strategically and are you forward-looking? Do you want to make the difference? Our Digital department offers you the opportunity to help shape Vorwerk's future.
---
We are a dynamic and internationally successful group.
We offer our employees a creative and cooperative working environment and social protection in every stage of life. We promote the compatibility of family life and professional career, with grants for childcare and other benefits. Our time value accounts enable you to plan your individual life parallel to your career at Vorwerk. Our company health management includes fitness offers as well as support in difficult life situations. Our corporate pension plan takes care of a long-term and solid protection. All this meets your expectations? Then we look forward to getting to know you.
More @
vorwerk.com
JOB RESPONSIBILITIES:
Ownership for one or various digital products or service within the Digital Service Management scope

Managing day-to-day stakeholder interaction and external vendors; set and manage stakeholder expectations communicating effectively and in a transparent way

Coordinating IT service management (1st, 2nd and 3rd level support) for critical outsourced business applications in accordance with existing service level agreements

Accountable for daily monitoring as well as processing of incidents, service requests and problems until recovery or solution of them

Point of escalation for major incidents, and ensuring the flow of procedures and communication within the department responsible

Responsible for determining, updating and coordinating metrics for ascertaining service quality with Application Life Cycle Management and IT Operation as well as implementing measuring processes, perform measuring and reporting of service quality

Strong ownership and coordination of Problem Management lifecycle for postmortems, root cause analysis and prevention activities between different technical teams

Provide technical support requirements for SRE, Monitoring (Grafana, Instana, OpsGenie etc)
Provide support requirements for NFR and Support Tools (Jira, ServiceNow, Zendesk, Slack etc) workstreams

Managing the risk of service operation in cooperation with technical architects, communicate among support and systems staff
REQUIREMENTS:
Several years of relevant working experience within IT, at least 3 years in Service Management / Service Operation with focus on end customer solutions

Successfully completed bachelor degree in Computer Science or other technical degree or related practical work experience

Ideally Agile certification and/or Agile Service Management certificate

Preferably technical background in corresponding product area (e-commerce, digital ecosystems)

Strong Vendor Management experience with proven record on steering several external service providers

Hands-on experience with the latest industry-leading enterprise Agile tools (e.g., Atlassian Suite / Jira / Confluence) and service management tools (ServiceNow)

Proven knowledge of service management frameworks (e.g. ITIL, Cobit) - ideally ITIL® foundation certification and especially Service Operations / Service Transition

Understanding of IT architectural frameworks

Knowledge of project management frameworks (e.g. PMI, Prince2) - ideally Prince2® foundation certification

Agility mindset, agility experience and operation project management experience

Flexible, objective with relevant technical understanding of web and mobile applications within cloud (AWS) and SAFE5.0 Agile setup
Contact:
VORWERK ELEKTROWERKE GMBH & CO. KG
Ulrich Bestek
Blombacher Bach 3
42287 Wuppertal
Germany
+49 (0)202 564-2416
www.vorwerk.com