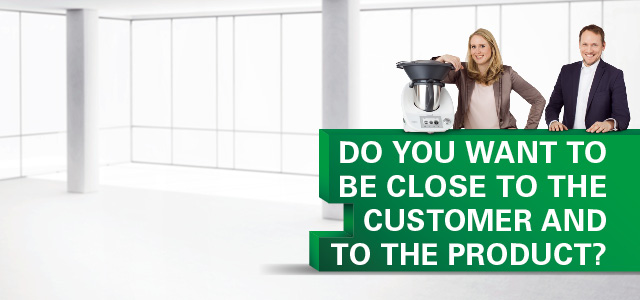 At Vorwerk, you can.
Welcome to Vorwerk – as a Senior Software Architect
Life is full of contradictions. We prove that these can be perfectly united, not only with our innovative products, but also with exciting opportunities in marketing and sales. We give our employees the freedom for dynamic development while also placing value on their work-life balance.
---
You want to design new experiences in smart living? Look no further! Vorwerk Digital's vision is to
elevate the quality of life everywhere our customers call home. We are up to combine Vorwerk's
long-standing, high-quality engineering experience with agile methodologies, leading edge
technologies and whole-hearted dedication to customer satisfaction to strengthen our long-term
trustful customer-relationships.
We are looking for a passionate, empathic, and innovative senior software architect who wants to play a leading role in the development of our digital products.
JOB RESPONSIBILITY:
The successful candidate will drive the architectural aspects of a portfolio of several mid- to large-scale software projects, devise Change initiatives on the business and the technology level, and establish plans and blueprints which enable a cross-divisional, cross-departmental, cross-technological setup of teams for successful delivery.
Turning business ideas and requirements into solution strategies for new digital products

Definition of concepts and blueprints providing constraints and guidelines for our platform Evolution

Conduct hands-on labs, talks or training on the job to communicate and explain your concepts to colleagues, the business, and our external cross-functional development Teams

Preparing and work on architecture decisions with our technical solution architects in Düsseldorf

Evolving our holistic digital platform-strategy including aspects like TCO, security, organisational dependencies, data privacy, data analytics, and continuous learning

Selection of implementation approaches, elaboration of specifications, evaluation of technologies,

screening and briefing of partners, and ensuring the availability of skilled personnel for our projects
REQUIREMENTS:
Strong practical work experience as a Software architect or technical lead

Profound software development background with
modern programming languages

Ability to design scalable and highly available distributed systems including resilience and stability Patterns

Prior experience with cloud-based Software

systems and their application lifecycle specialities

Holistic view on application lifecycle management

Experience implementing and designing
REST APIs with HATEOAS

Experience with distributed systems on AWS, Azure, Openshift or Kubernetes

You lead engineering best practices in your current role.

Flexibility: having a propensity to use the right tool for the job.

Focus on customer value: tools and technologies are a means to an end
The reward? You will get to work as one of the technical leaders teaming with our technical solution architects, agile project managers and external engineers dedicated to first class customer experiences!
We are an international, family-owned company offering to our employees and sales advisors a wide variety of prospects. The successful direct sales concept, fascinating well-known brands as well as long-term perspectives form perfect conditions for dedicated people to take the opportunity to actively shape their future with us.
Vorwerk International Strecker & Co. belongs to the German family-owned company Vorwerk that has been operating in Wuppertal for more than 130 years. From the strategic head offices in Freienbach, the Kobold and Thermomix divisions are managed.
More
@vorwerk.com