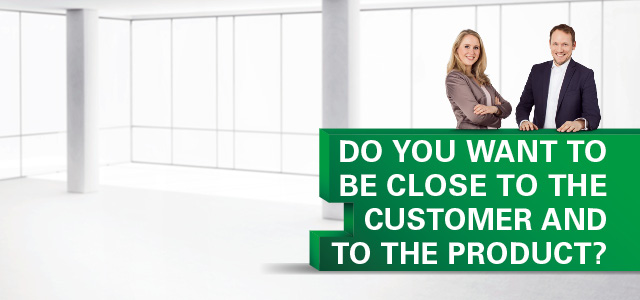 At Vorwerk, you can.
Welcome to Vorwerk – as a E-Business Product Owner
Life is full of contradictions. We prove that these can be perfectly united, not only with our innovative products, but also with exciting opportunities in marketing and sales. We give our employees the freedom for dynamic development while also placing value on their work-life balance.
---
We are an international, family-owned company offering to our employees and sales advisors a wide variety of prospects. The successful direct sales concept, fascinating well-known brands as well as long-term perspectives form perfect conditions for dedicated people to take the opportunity to actively shape their future with us.
Vorwerk International Strecker & Co. belongs to the German family-owned company Vorwerk that has been operating in Wuppertal for more than 130 years. From the strategic head offices in Freienbach, the Kobold and Thermomix divisions are managed.
More @
vorwerk.com
JOB RESPONSIBILITY:
Driving the planning and implementation of Vorwerk E-Business projects

Participating in the project lifecycle as Product Owner, tracking new enhancement requests and elicit functional requirements from cross functional stakeholders

Capturing and authoring user stories that capture the requirements and conditions for new projects and change requests

Creating, maintaining and prioritizing the product backlog, ensuring that it is visible, transparent, and clear to all, and shows what the Delivery Team will work on next

Generating innovative solutions on how our prospects and customers are booking demonstrations and buying our products

Utilizing customer and site visitor analytics to make data-driven decisions and derive insightful enhancements that will optimize the shopping and navigational experience

Collecting ideas and recommendations from the countries and other stakeholders. Scope and prioritize the development backlog based on business and customer impact. Translating product strategy into detailed requirements

Ensuring the harmonization of digital platforms across all countries

Developing sound test hypotheses to improve customer experience and work with the cross-functional teams to execute them as A/B tests

Performing competitive analysis to come up with recommendations that improve customer experience and drive business growth
REQUIREMENTS:
3+ experience in e-commerce product development and management
Familiarity working in an Agile development

Understanding of user interface and user experience design

Demonstrated technical expertise with an ability to understand technology solutions and potential tradeoffs; able to translate business needs to clear technical requirements and to communicate technical concepts to business users

Knowledge and experience of E-commerce and CMS platforms

Primary knowledge of HTML, Design & Development tools. Well versed with latest SEO techniques

Proven ability to work effectively as a member of a team

Methodical and organized; able to manage multiple projects and priorities concurrently

Superior English skills (oral and written) and of at least one other language (German, French, Spanish, Italian) are mandatory

Excellent interpersonal communication and presentation skills, as well as analytical and effective problem-solving skills are essential

Self-motivated to stay current on new trends/initiatives within online and social media area

Ability to travel up to 30%
This role will be acting as an interface between the unique expectations of the customers, country requirements and the development agencies, and furthermore will be leading cross-functional teams and tackle aspects of the design and the development process, guided by a big-picture vision.
Contact:
Vorwerk International Strecker & Co.
Gerard Scharm
0447860147
www.vorwerk.com