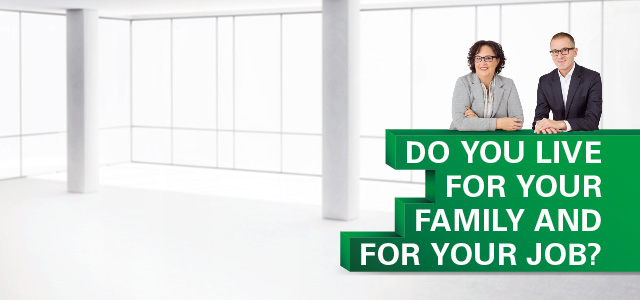 At Vorwerk, you can.
Welcome to Vorwerk – as a Marketing Specialist
Life is full of contradictions. We prove that these can be perfectly united, not only with our innovative products, but also with exciting opportunities for experienced professionals. If you are a forward-thinker and strategist who wants to make things happen, we offer you the space to pursue your ideas. Shape the future of Vorwerk with us.
---
We are an international, family-owned company offering to our employees and sales advisors a wide variety of prospects. The successful direct sales concept, fascinating well-known brands as well as long-term perspectives form perfect conditions for dedicated people to take the opportunity to actively shape their future with us.
Vorwerk International Strecker & Co. belongs to the German family-owned company Vorwerk that has been operating in Wuppertal for more than 130 years. From the strategic head offices in Freienbach, the Kobold and Thermomix divisions are managed.
More @
vorwerk.com
JOB RESPONSIBILITY:
Work closely with the Vice President Marketing to build our presence with key stakeholders both internally and externally

Support in the communication between the global marketing team in the HQ and the countries

Provide support to marketing across our European markets as well as China and USA

Taking care of travel arrangements, flights, hotels, etc

Uploading marketing material to online libraries and teamsites

Updating and maintaining the marketing department's documentation and databases

Support maintenance and ongoing development of all country specific activities working closely with the wider marketing functions like Brand, Product, Customer and Advisor

Support in the area of preparing, developing and follow up of marketing events, meetings and workshops
Responsible for specific marketing projects
REQUIREMENTS:
Bachelor degree with focus on Marketing or Communications

Interest to work in an international, dynamic Environment

At least 2 years' experience in Project Management

Willing to go the extra-mile and support building the new marketing Team

Organizational skills

Language skills: English and German – any additional language considered an Advantage

Energetic with a hands on mentality and flexible

Team player and interpersonal skills

Curious and willing to learn new things

Well organized with good attention to Detail



Contact:
Vorwerk International & Co. KmG
Gerard Scharm
0447860147
www.vorwerk.com